Dogs sleep a lot more than we do. On average, they need about 12-14 hours of sleep a day. With all that sleep they need to be comfy, especially if they have Arthritis.
Choosing the Right Bed for Your Dog with Arthritis
Have you ever had back or neck problems, shoulder or hip pain?
Do you wake up in the morning sore?
Do you get out of bed and need a few minutes to get going?
Have you changed your mattress or pillow, and your stiffness and pain has improved?
The comfort of your own bed is considered a necessity rather than a luxury. The same is true for your dog's bed! Especially if your dog suffers from Arthritis.
If your dog has Arthritis, is stiff when they wake up in the morning, or struggles to get off their bed, then it may be time to think about investing in an orthopedic dog bed.
Orthopedic Dog Beds
An orthopedic dog bed is a mattress-style bed that provides support to the muscles and joints. There are several considerations before choosing the right bed for your dog:
Mattress size and thickness: A good quality memory foam or foam mattress. 4-7 inch usually represents a good thickness depending on the weight / size of your dog.

Size: A larger dog will need a bigger bed with a firmer and a thicker mattress.
Firmness: It needs to be firm enough to allow your dog to lie on top of the bed with minimal displacement, similar to you lying on your mattress. Your dog should also remain supported off the ground.
Side bolsters: Some dogs like to sleep sprawled out on a flat surface, while others prefer to curl up in a cozy ball, or lean against something. Watch your dog sleep and see if side bolsters are required.

Cover: Waterproof / washable so you can keep it clean. Also consider the type of fabric and zippers if your dog likes to chew their beds. Some of the beds also have a non-slip under surface which can be a good option if you're placing the bed on a slippery floor.
Budget: Dog beds are available in a wide range of styles, colors, materials and prices. Look around to find one that meets your dog's needs and budget.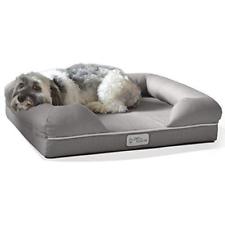 Good Orthopedic Options Include:
If you would like to read about other strategies to help your Arthritic dog at home read here.