One minute your beloved canine companion is running around completely fine and the next, they've started limping. A trip to the vet and you're told that your dog has torn its cruciate ligament and needs TPLO surgery to repair it. What exactly is a cruciate ligament rupture and how much does TPLO surgery cost?

What Is A Cruciate Ligament Rupture?
The cruciate ligaments are composed of two bands of fibrous tissue that join the femur and tibia bones together in the knee. These ligaments allow the knee to be a hinged joint. These two bands are called the cranial (anterior) and caudal cruciate ligaments and cross over each other, providing stability to the joint.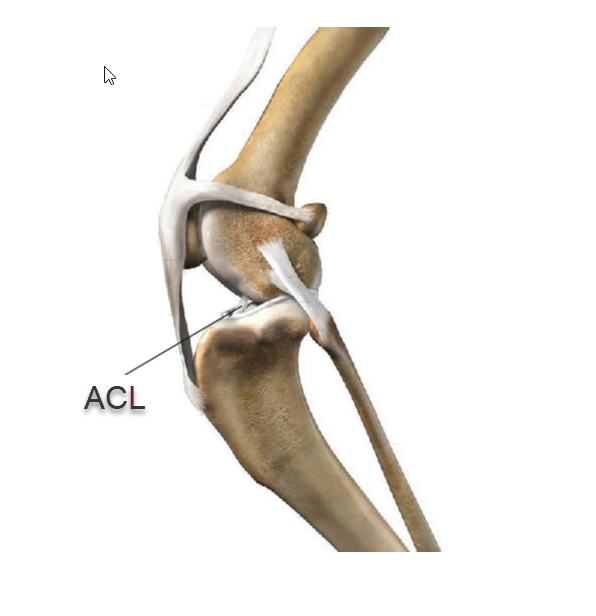 One of the most common orthopedic injuries in dogs is the rupture of the cranial (anterior) cruciate ligament. When this ligament tears, the joint becomes unstable. You might notice something from a subtle limp in your dog's back leg to full non-weight bearing.
In the vast majority of cases, surgery will be recommended to repair the injury and bring stability back to the joint.
What Is A TPLO?
TPLO stands for "Tibial Plateau Leveling Osteotomy". During this surgery, the ruptured ends of the torn cruciate are removed and the top of the tibia is cut to fit into the tibial plateau. The tibial plateau is rotated and then plates are screwed in to hold it in its new position.
This procedure is one of the most common orthopedic surgeries in veterinary medicine and 90% of dogs are able to return to full weight-bearing capacity.
Helping Your Dog Recover From A TPLO
Following the surgery, your dog will need to have restricted activity and exercises to progressively strengthen its leg.
It's important to have a quiet place for your dog to rest. This might be a crate with bedding that is large enough for them to stand up in and turn around or a small room that has been gated off. For the first few days, your dog may have a hard time getting around it could be helpful to purchase a sling or to have a few old towels handy so that you can help them stand and go outside to use the bathroom. This article goes into more detail on the post-surgical period.*
Rehabilitation exercises can be progressively introduced throughout your dog's recovery. Our 'Dog ACL: Home Exercises' article goes into more detail on the specific exercises.*
*Always talk to your treating Vet before starting any new exercises or deviating from their specific instructions.
How Much Does TPLO Surgery Cost?
TPLO surgery cost can vary greatly. Key factors include:
Surgeon (General Practice Vet vs Board Certified Surgeon)
The location of the hospital that the procedure is being performed in
Your dog's breed and weight
The average cost breaks down as follows:
United States: US$2,500 – $5,500
UK: £1,750 – £6,000
Australia: AUD$2,500 – $8,364
The above are the average costs for the repair of one knee. Once a dog tears their first cruciate ligament there is a high risk that it will have a tear in its other knee.
What Does It Mean If A Veterinary Surgeon Is Board-Certified?
When a veterinarian is board-certified, it means that they have decided to continue their education after graduating from veterinary school. For example, in the United States, a 12-month internship and three years in a focused residency position are required. Typically, board-certified surgeons charge more for a TPLO surgery. For more information on Board-Certified Veterinary Surgeons click here.
Are There Alternatives To TPLO Surgery?
Yes, there are a few alternatives to TPLO surgery, including:
Tibial Tuberosity Advancement (TTA): A TTA is similar to a TPLO in that it uses plates and screws to provide stability to the joint.
Tightrope Procedure: During this surgery, a fiber implant is inserted that mimics the cruciate ligaments. This type of surgery is usually indicated in smaller breeds.
Non-surgical Alternatives: Non-surgical options include physical rehabilitation, knee braces, supplements, and pain medications.
Your dog's medical history and physical exam will help your veterinarian determine which option is best.
Pet Insurance Can Help Cover The TPLO Surgery Cost
It's horrible knowing that your dog is suffering and every dog parent wants to give their furry friends the best care possible. The average person doesn't have thousands of dollars available for their dog's medical care when the need arises. That's where pet insurance can help.
Pet insurance helps to pay for unexpected veterinary bills when your pet becomes ill or injured. There are dozens of companies offering a wide range of policy types. The most popular pet insurance companies in the US include:
Petplan
Figo
Pets Best
Trupanion
Healthy Paws
The most important thing to remember is that pet insurance will never pay for a pre-existing condition so a policy needs to be purchased before your pet needs medical care! Also, check for exclusions in the fine print of your policy.